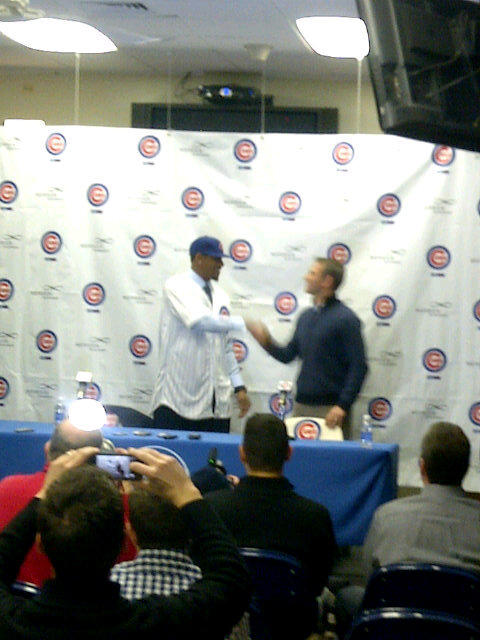 Edwin Jackson shakes hands with Cubs general manager Jed Hoyer after trying on his Cubs jersey for the first time.
In what is the first of what Cubs fans hope will be many big name free agent signings this year, right handed pitcher Edwin Jackson was introduced to the Chicago media today.
Jackson has been in the big leagues since 2003. He began with the Los Angeles Dodgers and most recently pitched for the Washington Nationals in 2012.
This is not the first time that Jackson has been in a Chicago uniform. During the 2010 and 2011 seasons, Jackson was a member of the White Sox.
Although he has a sub-500 pitching record, he is one of the more durable and consistent pitchers in the majors today. He was introduced to the media today by Cubs general manager Jed Hoyer.
Team president Crane Kenney and vice-president Theo Epstein were also present at Wrigley Field today.
Here is the press conference in its entirety:
Afterwards I was granted an exclusive one-on-one with the newest member of the Cubs:
I also got to speak with Cubs vice-president Theo Epstein:
In next weeks print edition of Extra, I will have the full story on the Cubs acquisition of Edwin Jackson.